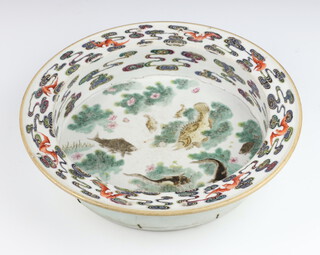 509 A 19th Century Chinese famille rose circular bowl decorated with fish and bats 28cm
SOLD £3200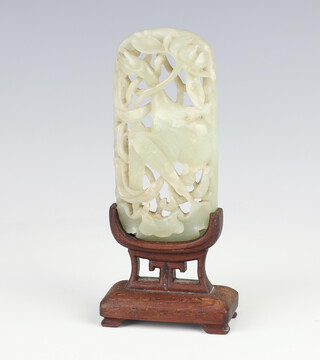 485 A Chinese carved and pierce jade plaque in the form of a standing exotic bird raised on a hardwood stand 13cm
SOLD £1000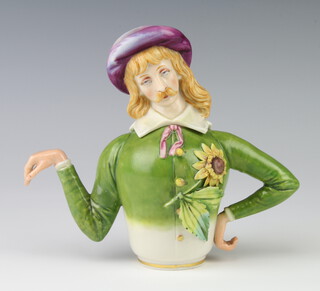 401 A rare 1882 Royal Worcester porcelain aesthetic "Patience" teapot, designed by R W Binns, the cover in the form of a double sided head, male and female, the male with a sunflower to his lapel, the female with an arum lily to the other, the spout modelled as one arm with two thumbs and one arm with the handle with no thumb, the body painted green, the hat painted purple with printed mark to base "Fearful consequences through the law of natural selection and evolution of living up to one's teapot", marked Budge modelled by James Hadley, with label for the C E Hanley collection numbered 19L, registration mark to base December 1881 and T mark for 1882, 15cm. The design of the teapot is a critique of the Aesthetic Movement and inspired by the Gilbert and Sullivan satirical operetta "Patience".
SOLD £10500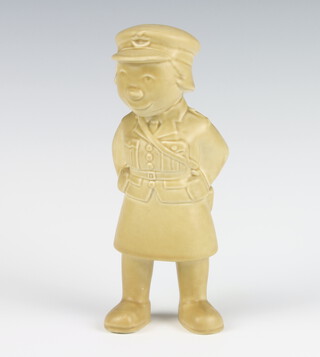 402 A Bovey Pottery, Devon, "Our Gang Figure" of a female WAAF Officer with printed marks to base 19cm
SOLD £980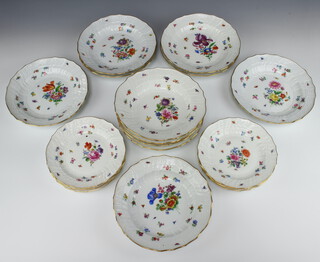 401 A matched set of Meissen dinnerware comprising 6 large plates 24cm, 6 small plates 20cm (1 chipped) and 5 soup bowls 23cm, all profusely decorated with spring flowers and insects
SOLD £560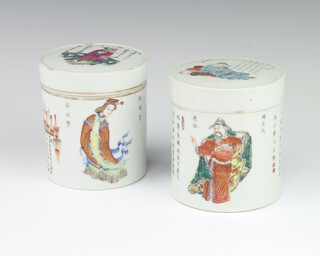 472 A pair of early 20th Century Chinese porcelain cylindrical pots and covers decorated with figures and script 11cm
SOLD £1000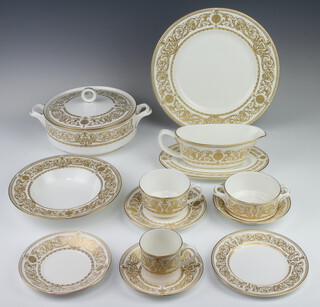 468 An extensive Royal Worcester Hyde Park pattern tea, coffee and dinner service comprising 18 tea cups, 19 saucers, 18 coffee cans, 18 saucers, 15 dinner plates, 24 medium plates, 18 small plates, 16 dessert bowls, 17 comports, 15 saucers, 2 tureens and covers, 2 covers, a sauce boat and stand and 7 soup bowls
SOLD £660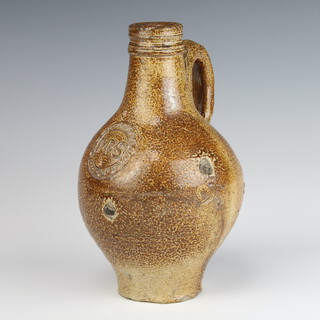 444 John Dwight of Fulham, a rare English 17th Century salt glazed stoneware jug circa 1677 with circular cartouche initialled MRS 20cm
SOLD £19000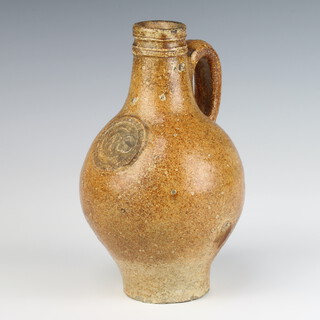 443 John Dwight of Fulham, a rare English 17th Century salt glazed stoneware jug circa 1677 with circular cartouche initialled MRS 20cm
SOLD £15000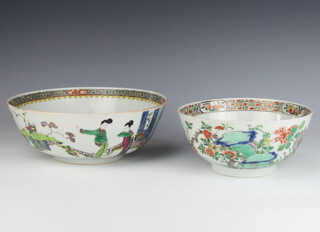 532 A 19th Century famille verte bowl decorated with scrolling flowers 20cm, ditto decorated figures in pavillion gardens 26cm
SOLD £720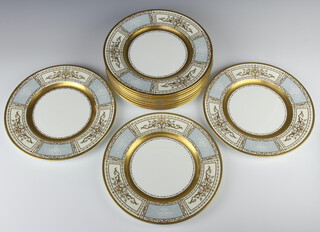 551 Twelve Minton dinner plates with gilt rims and blue panels of flowers 27cm
SOLD £1150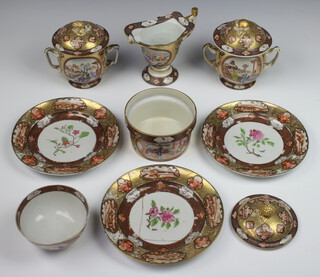 577 An 18th Century Chinese famille rose porcelain export service comprising a sauce boat decorated with a panel of figures in an extensive landscape with subsidiary ochre landscape panels decorated with birds, all on a gilt ground 13cm (lip is chipped), an ensuite circular deep bowl decorated with a gentleman climbing from a bath with 2 attendants, the reverse with figures in a pavillion terrace with subsidiary ochre landscape panels and panels of birds 12.5cm, a pair of 2 handled baluster sugar bowls and covers decorated with panels of figures in pavillion and landscape panels, the ground with subsidiary ochre panels of landscapes and birds with fruit finials (1 has a restored handle), an odd lid, a deep bowl decorated with figures on pavilion terraces, the ground with ochre subsidiary panels of landscape views with a lady holding a basket over chickens 11cm (cracked), 2 ensuite plates decorated with ochre landscape panels enclosing sprays of famille rose flowers 19.5cm (1 plate is stuck)
SOLD £7800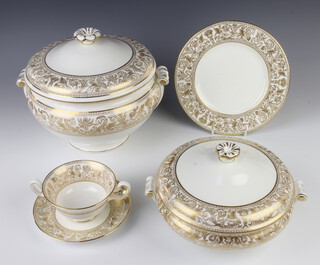 668 A Wedgwood gold Florentine dinner service comprising 10 two handled cups, 14 saucers, 13 small plates, 14 medium plates, 14 large plates, 14 dinner plates, 2 vegetable tureens and covers, a soup tureen and cover, 2 dishes
SOLD £900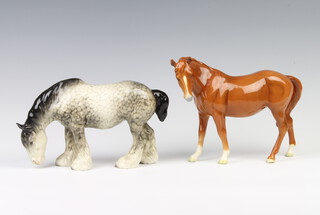 611 A Beswick figure of a mare facing left, chestnut gloss 17.2cm together with a grazing shire, rocking horse grey 14cm both modelled by Arthur Gredington
SOLD £780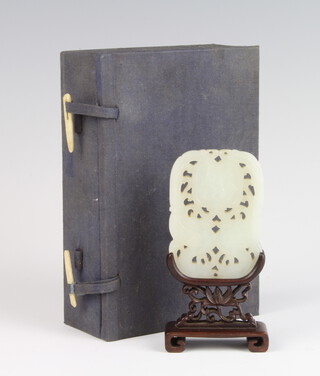 675 A 1970's coloured Chinese hardstone plaque decorated with birds, raised on a hardwood stand, boxed, 10cm
SOLD £520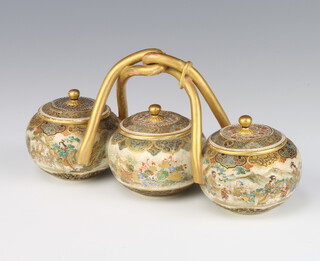 707 A late 19th century Japanese Satsuma 3 section run of lidded bowls with lids and entwined gilt handle, the base decorated with panels of flowers and figures 21cm
SOLD £1850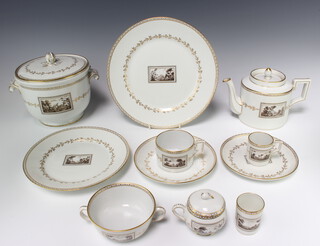 706 An extensive Richard Ginori tea, coffee and dinner service with gilt and blue borders enclosing landscape panels, comprising 26 coffee cans, 12 chocolate cups and covers, 18 tea cups with angular handles, 5 tea cups with round handles, 2 sugar bowls with lids, pepper grinder, a cigarette lighter, cream jug, milk jug, 3 shaped dishes, 1 small dish, 22 shallow dishes, 21 small plates,18 medium plates, 8 dinner plates, 5 small plates, 25 deep saucers, 2 sauce boats, 1 meat plate, 2 oval vegetable dishes, a tureen lid, an ice bucket and lid, 2 coffee pots, 20 soup bowls, a toothpick holder, a ladle, 8 plain saucers, 12 decorated saucers 3 shaped dishes together with a teapot with restored spout, 5 dinner plates (chipped), a small dish (chipped) and 2 side plates (chipped)
SOLD £2200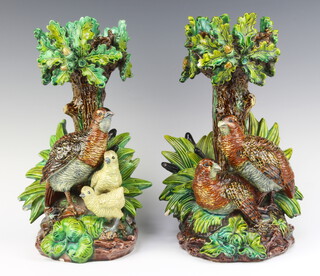 1 Hugo Lonitz & Co 1868-1904, a pair of Majolica stands with grouse and chicks before bulrushes against an oak tree, the column encrusted with acorns and oak leaves. One base impressed with double fish mark and 1203, the other J.R.1204, 31cm h x 16cm diam.
SOLD £700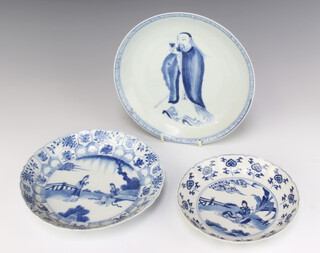 146r An 18th Century Chinese blue and white dish decorated with a lady sitting beneath bamboo 17cm, 2 other plates
SOLD £3200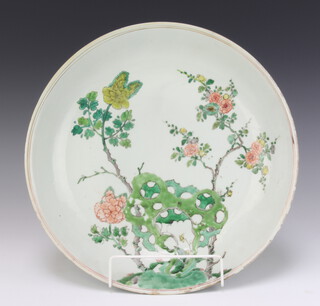 146g An 18th Century Chinese famille rose shallow dish decorated with a flowering tree 35cm
SOLD £1350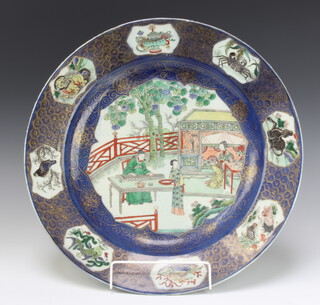 146c An 18th Century Chinese famille verte plate decorated with figures on a pavillion terrace enclosed by fish, birds, lions and plants 39cm
SOLD £1750