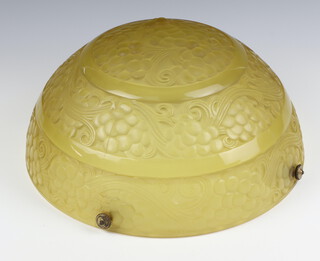 401 A Lalique Saint-Vincent yellow amber chandelier decorated with grapes and vines, model no. 2470, circa 1926, moulded Lalique mark and France, 34.5 cm
SOLD £820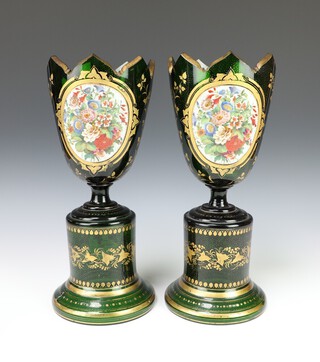 401 A pair of 19th Century Bohemian green glass vases decorated with panels of scrolling spring flowers, raised on cylindrical bases with scrolling leaves 34cm h
SOLD £900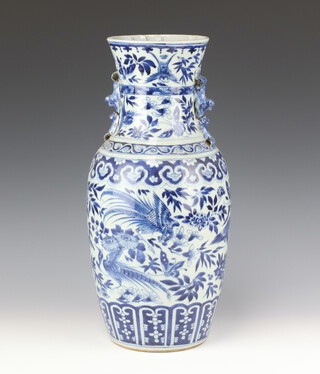 540 A large Chinese blue and white baluster vase, late Qing dynasty, painted with birds and flowers having dragon handles the interior lip with unusual moulding 47.5cm h
SOLD £820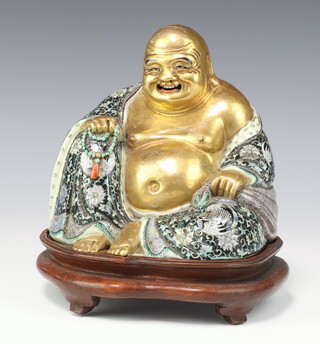 511 A famille verte figure of Budai, late Qing dynasty/Republican period, the seated figure with open mouth and visible teeth painted in gilt and his ornate robe decorated with phoenix and lotus, impressed mark to the base - seal of Xue Wei Sen (probably the maker) raised on a wooden stand, 19cm h
SOLD £2500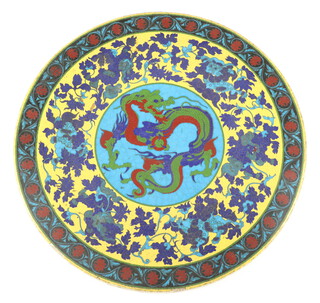 505 A Japanese circular cloisonne on porcelain dragon plaque, circa 1900, decorated with a central 3 claw dragon bordered with bands of Buddhistic lions on a yellow ground and lotus inscribed to the reverse, 35cm diam
SOLD £640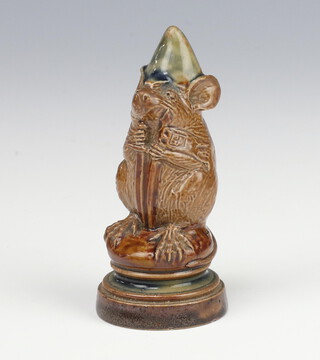 444 George Tinworth, a Doulton Lambeth chess piece in the form of a mouse (knight), impressed mark and number 1884 8cm
SOLD £600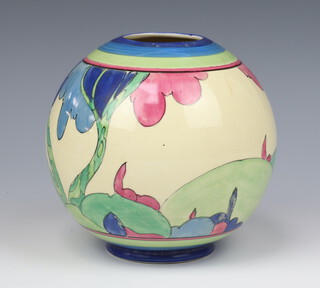 401 A Clarice Cliff Rudyard pattern spherical vase, pattern 370, printed mark 15cm
SOLD £640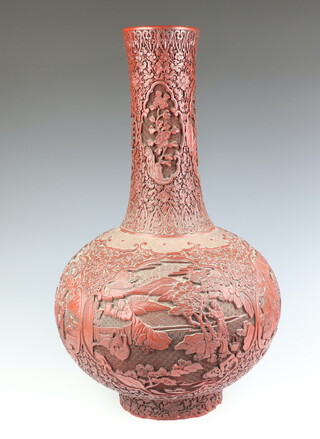 431 An impressive 19th Century Qing Dynasty cinnabar lacquered bottle vase, decorated with panels of scholars and children in gardens in a rocky river landscape, with panels of lotus, prunus, peony and chrysanthemums 60cm h
SOLD £3600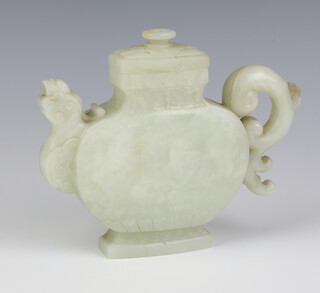 425 An antique style Celadon jade flattened ovoid phoenix wine pot and cover with rounded body, the spout in the form of a head and tail of a phoenix 14.5cm
SOLD £3900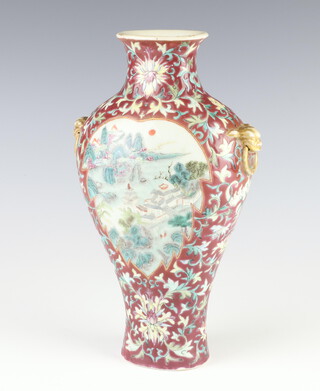 405 An Imperial style 19th Century flattened baluster vase with gilt lion ring mask handles, decorated with panels of retreats in mountainous landscapes with rivers, on a deep red ground with stylised lotus 25cm h
SOLD £1250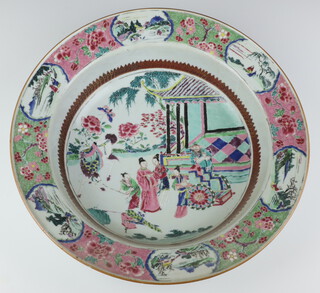 401 A 19th Century Qing Dynasty famille rose deep bowl, the interior decorated with a scholar and female attendants beside a sedan chair before a pavilion terrace, the rim with landscape and figure panels on a ground of peony 9cm h x 37cm diam.
SOLD £1250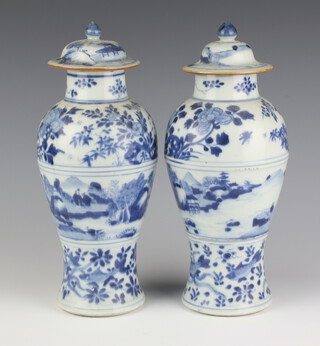 501 A pair of 19th Century Chinese blue and white oviform vases and covers decorated with a band of a landscape with figures, the bodies with flowers and fish amongst seaweed 28cm
SOLD £2900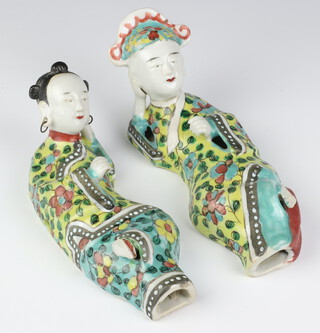 495 A pair of Chinese polychrome reclining figures of a lady and gentleman, the lady with pierced ears and metal hoop earrings, the robes decorated with flowers 18cm
SOLD £840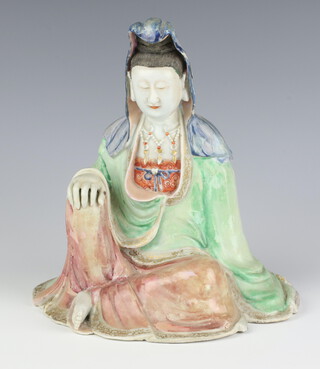 493 A 19th Century Chinese figure of a seated lady 20cm
SOLD £3700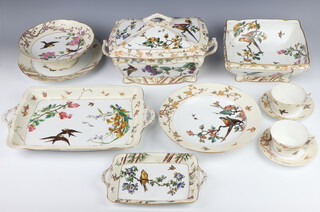 489 An extensive 160 piece Charles Field Haviland, Limoges dinner, dessert and tea service, stamped CFH CDM, comprising 10 large tea cups, 7 small cups, 6 large saucers, 8 small plates (2 a/f), 35 dinner plates (3a/f), 22 medium plates (5 a/f), 11 side plates, 18 shallow soup bowls, 7 dessert plates (3 a/f), oval meat plate, jug drainer, 2 side bowls, 6 tazzas (1 a/f), square bowl, 4 small rectangular tureens (1 cracked) and four stands, 2 oval bowls, 10 small rectangular plates, 2 medium plates, 2 large plates, 2 meat plates (1 a/f), one 2 handled plate, 4 medium tureens and 1 large tureen with hand painted and partially printed decoration of birds on blossoming boughs including parrots, kingfishers, swifts, swallows and chaffinches
SOLD £1800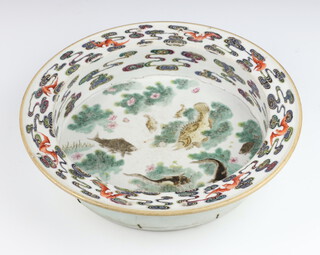 509 A 19th Century Chinese famille rose circular bowl decorated with fish and bats 28cm
SOLD £3200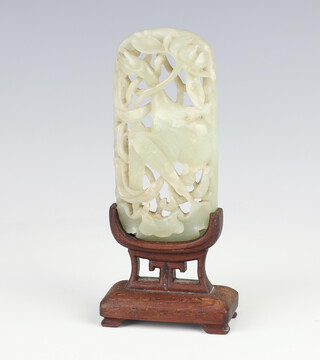 485 A Chinese carved and pierce jade plaque in the form of a standing exotic bird raised on a hardwood stand 13cm
SOLD £1000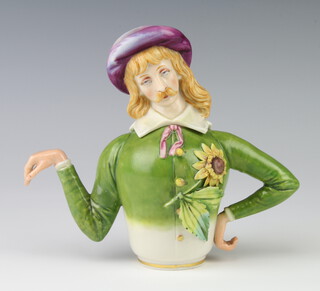 401 A rare 1882 Royal Worcester porcelain aesthetic "Patience" teapot, designed by R W Binns, the cover in the form of a double sided head, male and female, the male with a sunflower to his lapel, the female with an arum lily to the other, the spout modelled as one arm with two thumbs and one arm with the handle with no thumb, the body painted green, the hat painted purple with printed mark to base "Fearful consequences through the law of natural selection and evolution of living up to one's teapot", marked Budge modelled by James Hadley, with label for the C E Hanley collection numbered 19L, registration mark to base December 1881 and T mark for 1882, 15cm. The design of the teapot is a critique of the Aesthetic Movement and inspired by the Gilbert and Sullivan satirical operetta "Patience".
SOLD £10500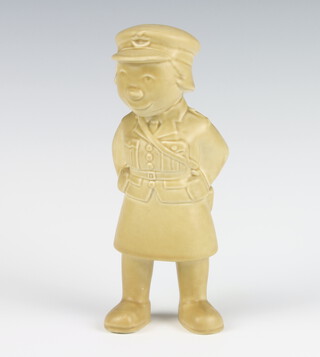 402 A Bovey Pottery, Devon, "Our Gang Figure" of a female WAAF Officer with printed marks to base 19cm
SOLD £980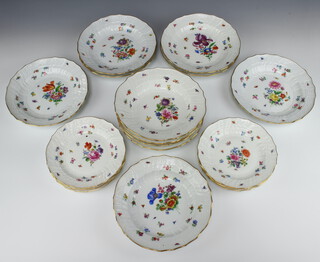 401 A matched set of Meissen dinnerware comprising 6 large plates 24cm, 6 small plates 20cm (1 chipped) and 5 soup bowls 23cm, all profusely decorated with spring flowers and insects
SOLD £560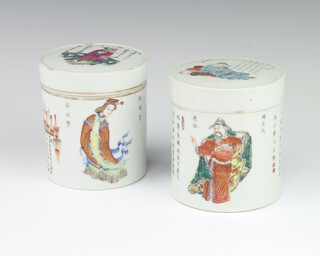 472 A pair of early 20th Century Chinese porcelain cylindrical pots and covers decorated with figures and script 11cm
SOLD £1000