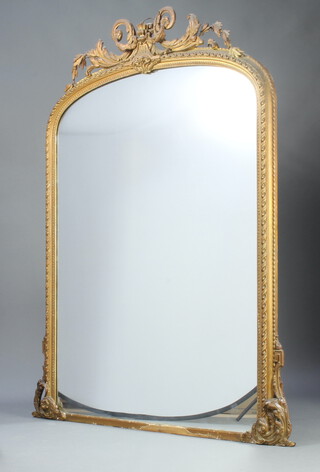 982 A Victorian arched plate over mantel mirror contained in a decorative gilt frame surmounted by swags 180cm h x 153cm w x 6cm d
SOLD £720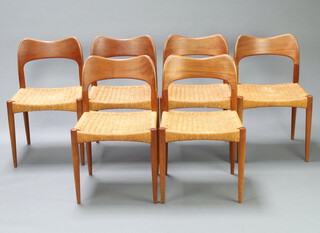 968 Mogens Kold, a set of 6 1960's teak dining chairs with paper cord seats designed by Arne Hovmand Olsen for Mogens Kold, with sculpted bow shaped backs, 1 with label marked Danish MK and 4 with labels to seats 78cm h x 48cm w x 40cm d (seats 30cm x 26cm)
SOLD £1250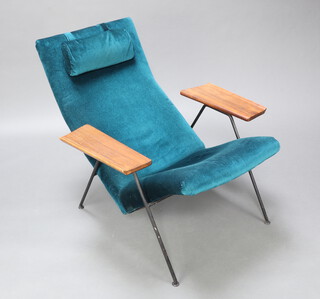 1052 Mid Century, Robin Day for Hille, circa 1952, a tubular metal and teak armchair upholstered with teal velour, 89cm h x 87cm w x 73cm d (seat 32cm x 30cm)
SOLD £680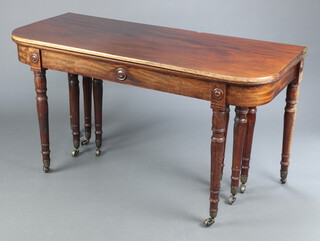 1029 A Wilkinson Moorfield Patent Regency mahogany concertina action extending dining table, the apron carved roundels, raised on 10 turned supports ending in brass caps and casters, the action impressed Wilkinson Moorfields Patent 360 and the cross stretchers marked Wilkinson Moorfields Patent 360 in several places, the 4 leaves are marked 360 to the underside 73cm h x 137cm wide x 114cm l without the leaves x 326cm when fully extended, complete with 10 brass clips
SOLD £2600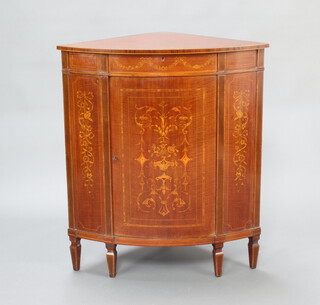 947 Edwards and Roberts, an Edwardian inlaid mahogany and crossbanded corner cabinet, the upper section fitted a drawer, the base enclosed by a panelled door raised on square tapered supports 92cm h x 80cm w x 53cm d
SOLD £500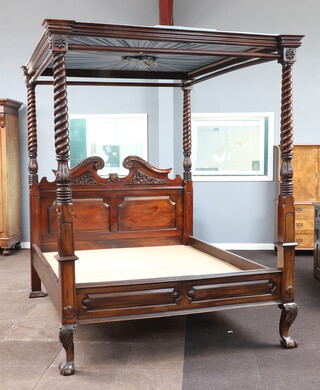 1016 A William IV style carved and turned mahogany 4 poster frame with broken pediment headboard, raised on carved cabriole, ball and claw supports 224cm h x 178cm w x 221cm long (inside measurement 158cm w x 206cm l)
SOLD £1950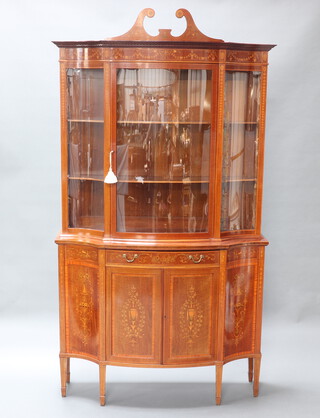 922 An Edwardian heavily inlaid throughout mahogany bow front display cabinet, the upper section with broken pediment and fitted shelves, the base fitted a drawer above panelled doors, raised on square tapered supports with spade feet 223cm h x 123cm w x
SOLD £1300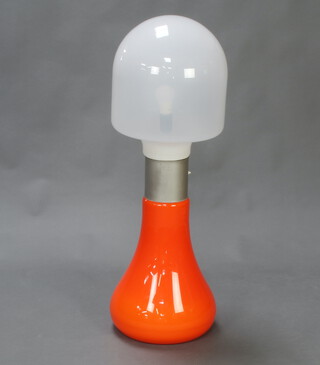 1051 A Carlo Nason for Mazzega glass floor lamp, the mushroom shaped upper section opaque and the lower in orange joined by a central aluminium rim 100cm h x 37cm w. The lamp is fully functional.
SOLD £660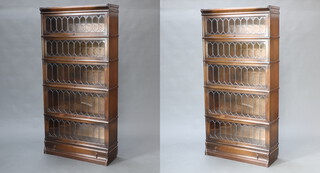 986 Globe Wernicke, a pair of oak Globe Wernicke 5 tier bookcases enclosed by folding lead glazed panelled doors, each base fitted 1 long drawer 178cm h x 86cm w 30cm d
SOLD £1600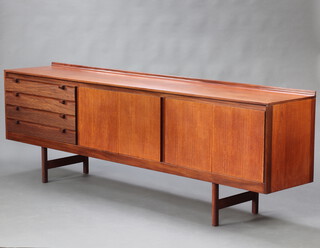 1006 Archie Shine for Robert Heritage, a mid Century teak sideboard of two cupboards and 4 ribbed drawers 80cm h x 243cm w x 46cm d
SOLD £540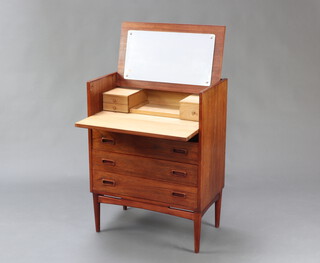 1004 Mogens Kold, a 1950's Danish teak vanity chest. The flip top having a mirror en verso revealing a bleached interior consisting centre tray flanked left and right by two drawers and one drawer respectively. The chest of 3 long drawers with recessed handles with two faux drawers above incorporated in the fall front. Raised on round tapering legs with figured stretcher, 67w x 40d x 89h
SOLD £560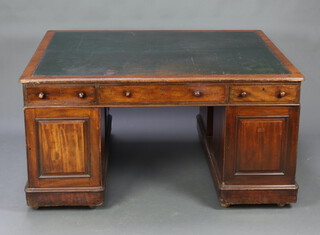 1087 A Victorian mahogany partners desk with inset tooled leather writing surface, the upper section fitted 2 long and 2 short drawers, the pedestals fitted 3 drawers enclosed by a panelled door and cupboard enclosed by a panelled door 74cm h x 152cm w x 123cm d
SOLD £580
1064 A Regency rectangular rosewood bookcase fitted adjustable shelves, raised on outswept supports with concave base 96cm h x 93cm w x 48cm d
SOLD £520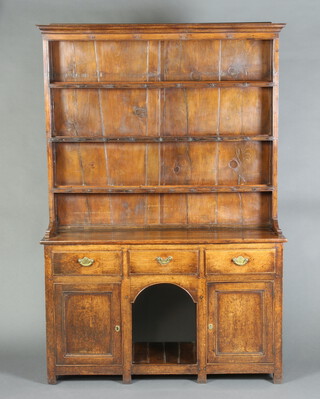 1033 A 17th Century style oak dog kennel dresser, the raised back with moulded cornice fitted 3 shelves and 3 long drawers, the dog kennel recess flanked by a pair of cupboards 190cm h x 129cm w x 40cm d
SOLD £720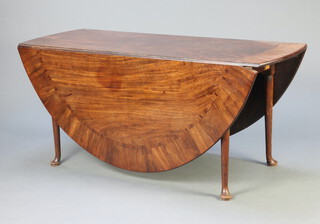 1193 A George II oval crossbanded mahogany drop flap dining table raised on pad feet 73cm h x 161cm w x 62cm when closed x 192cm when open
SOLD £1450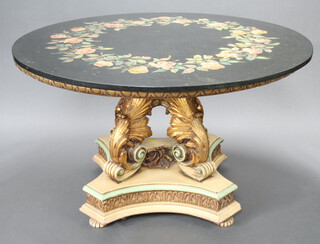 1188 G. Cavatorta, a circular painted marble top dining table decorated roses, raised on a rococo style carved gilt and painted wood base, on scroll supports and triform base 85cm h x 130cm diam.
SOLD £820
1170 A Georgian serpentine fronted mahogany chest of 4 long drawers with original brass swan neck drop handles and escutcheons, raised on bracket feet, the top drawer with fitted sections and inset leather writing surface 82cm h x 95cm w x 56cm d
SOLD £1000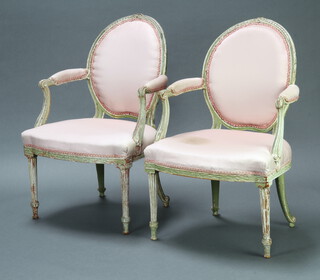 1168 A pair of 18th Century green and white painted armchairs by Thomas Chippendale
SOLD £50000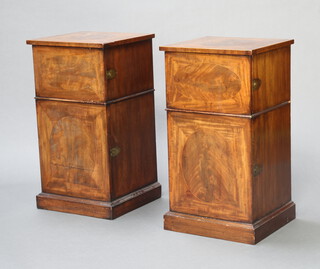 1155 A pair of 19th Century inlaid mahogany and cross banded pedestal cabinets fitted double cupboards enclosed by panelled doors, raised on a platform base 76cm h x 41cm w x 40cm d
SOLD £1300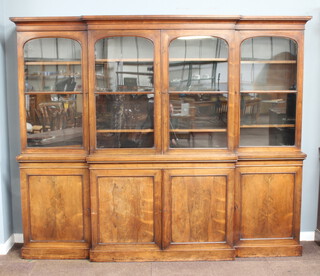 1080 A Victorian rosewood triple breakfront bookcase, the upper section with moulded cornice fitted shelves enclosed by arched glazed panelled doors, the base fitted cupboards enclosed by panelled doors 210cm h x 250cm w x 43cm d
SOLD £1650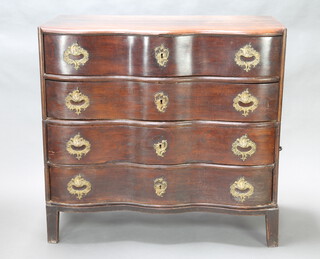 1184 An 18th Century Dutch oak commode of serpentine outline, fitted 4 long drawers with brass carrying handles to the sides, raised on an associated base 110cm h x 117cm w x 61cm d
SOLD £500