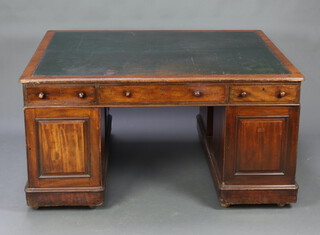 1087 A Victorian mahogany partners desk with inset tooled leather writing surface, the upper section fitted 2 long and 2 short drawers, the pedestals fitted 3 drawers enclosed by a panelled door and cupboard enclosed by a panelled door 74cm h x 152cm w x 123cm d
SOLD £580
1064 A Regency rectangular rosewood bookcase fitted adjustable shelves, raised on outswept supports with concave base 96cm h x 93cm w x 48cm d
SOLD £520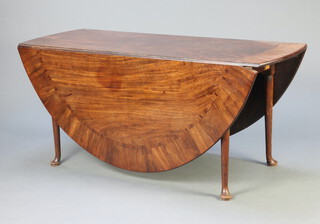 1193 A George II oval crossbanded mahogany drop flap dining table raised on pad feet 73cm h x 161cm w x 62cm when closed x 192cm when open
SOLD £1450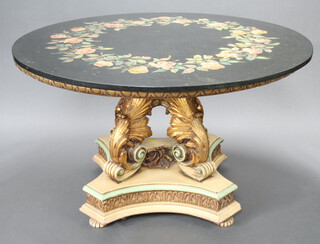 1188 G. Cavatorta, a circular painted marble top dining table decorated roses, raised on a rococo style carved gilt and painted wood base, on scroll supports and triform base 85cm h x 130cm diam.
SOLD £820
1170 A Georgian serpentine fronted mahogany chest of 4 long drawers with original brass swan neck drop handles and escutcheons, raised on bracket feet, the top drawer with fitted sections and inset leather writing surface 82cm h x 95cm w x 56cm d
SOLD £1000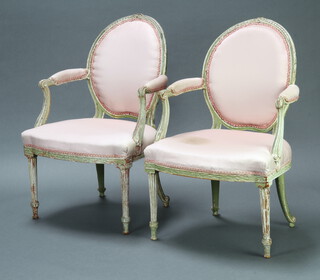 1168 A pair of 19th/20th Century French white painted open arm salon chairs, the seats and backs upholstered in pink material, raised on turned and fluted supports 96cm h x 63cm w x 50cm d (seat 39cm x 34cm)
SOLD £50000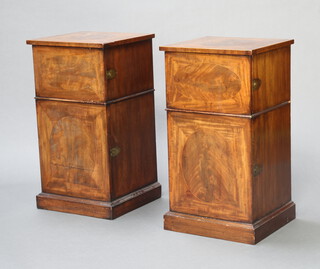 1155 A pair of 19th Century inlaid mahogany and cross banded pedestal cabinets fitted double cupboards enclosed by panelled doors, raised on a platform base 76cm h x 41cm w x 40cm d
SOLD £1300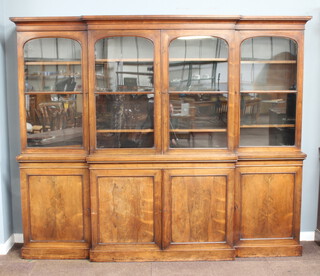 1080 A Victorian rosewood triple breakfront bookcase, the upper section with moulded cornice fitted shelves enclosed by arched glazed panelled doors, the base fitted cupboards enclosed by panelled doors 210cm h x 250cm w x 43cm d
SOLD £1650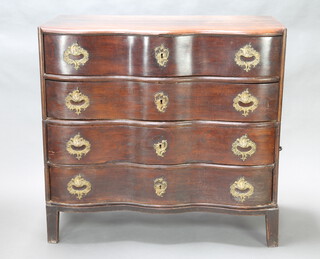 1184 An 18th Century Dutch oak commode of serpentine outline, fitted 4 long drawers with brass carrying handles to the sides, raised on an associated base 110cm h x 117cm w x 61cm d
SOLD £500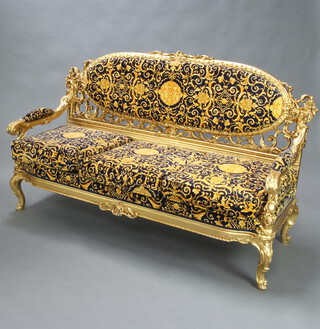 1153 An impressive Louis XVI style pierced gilt plaster wood salon suite comprising 3 seat sofa 105cm h x 173cm w x 66cm d (seat 159cm x 54cm)and 2 open armchairs 99cm h x 73cm w x 62cm d (seat 54cm x 48cm) upholstered in blue and gold fabric
SOLD £860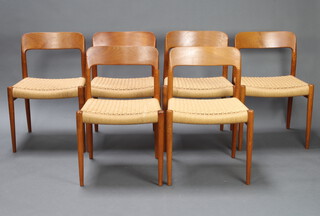 1070 Niels Moller for J L Moller Danish, model no. 75, a set of 6 20th Century teak bar back dining chairs with woven paper cord seats, 2 the bases marked J L Moller, 2 marked Danish Furniture Makers and 2 unmarked 74cm h x 48cm w x 42cm d
SOLD £1400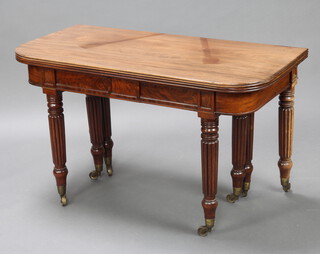 1238 A Gillows style flap over top cantilever dining table with 4 extra leaves (complete with brass clips), raised on 8 reeded supports, brass caps and castors 71cm h x 124cm w x 328cm l when all the leaves are in
SOLD £4400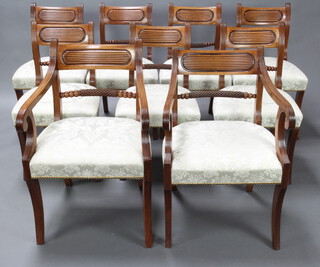 1237 A set of 10 Regency mahogany bar back dining chairs with carved and turned mid rails and overstuffed seats, raised on sabre supports, comprising 2 carvers and 8 standard chairs, the bases impressed A8838, carvers 85cm h x 46cm w x 50cm d (inside chair measurement 45cm w x 44cmd), standard chair 83cm h x 37cm w x 43cm d (inside 42cm w x 38cm d)
SOLD £640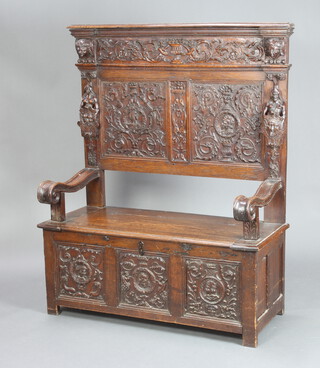 1216 A Victorian oak settle (made up), the raised back heavily carved throughout with portrait decoration, the base formed from a carved oak coffer 150cm h x 120cm w x 50cm d (inside seat measurement 99cm w x 45cm d)
SOLD £720
1160 A Regency inlaid rosewood sofa table fitted 2 frieze drawers, raised on lyre supports with turned stretcher ending in brass caps and castors 73cm h x 69cm w 101cm when closed x 157cm when open
SOLD £1400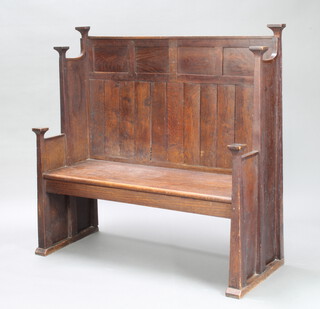 1157 An Art Nouveau Liberty style panelled oak settle with raised back 124cm h x 123cm w x 52cm d
SOLD £2500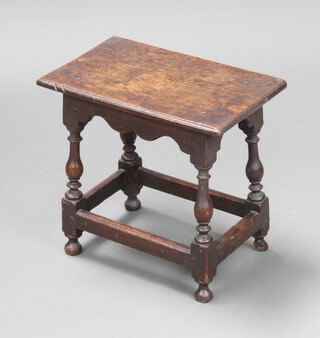 1085 A Victorian rectangular oak joined stool raised on turned and block supports with box frame stretcher 37cm h x 41cm w x 25cm d
SOLD £500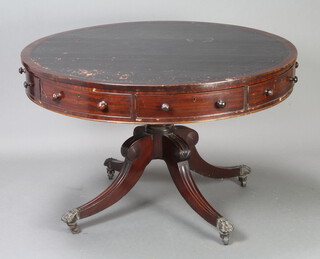 1186 A circular Georgian mahogany drum table with black inset leather writing surface, fitted 5 drawers, raised on turned column and tripod base ending in paw feet 77cm h x 120cm diam.
SOLD £1550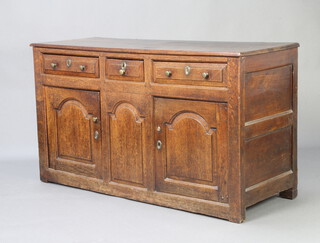 1124 An 18th Century oak dresser base fitted 1 short and 2 long drawers above pair of arched panelled doors 81cm h x 146cm w x 55cm d
SOLD £700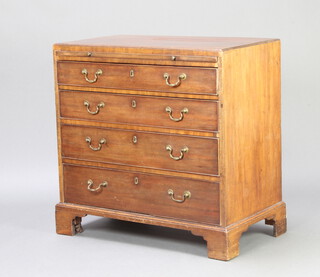 1123 A Georgian mahogany chest with caddy top and brushing slide above 4 long drawers with brass swan neck drop handles 81cm h x 83cm w x 45cm d
SOLD £1100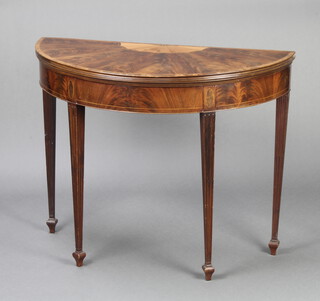 1115 An Edwardian Sheraton Revival inlaid mahogany demi-lune card table with crossbanded top, raised on square tapered and fluted supports, spade feet 73cm h x 93cm w x 44cm d
SOLD £520